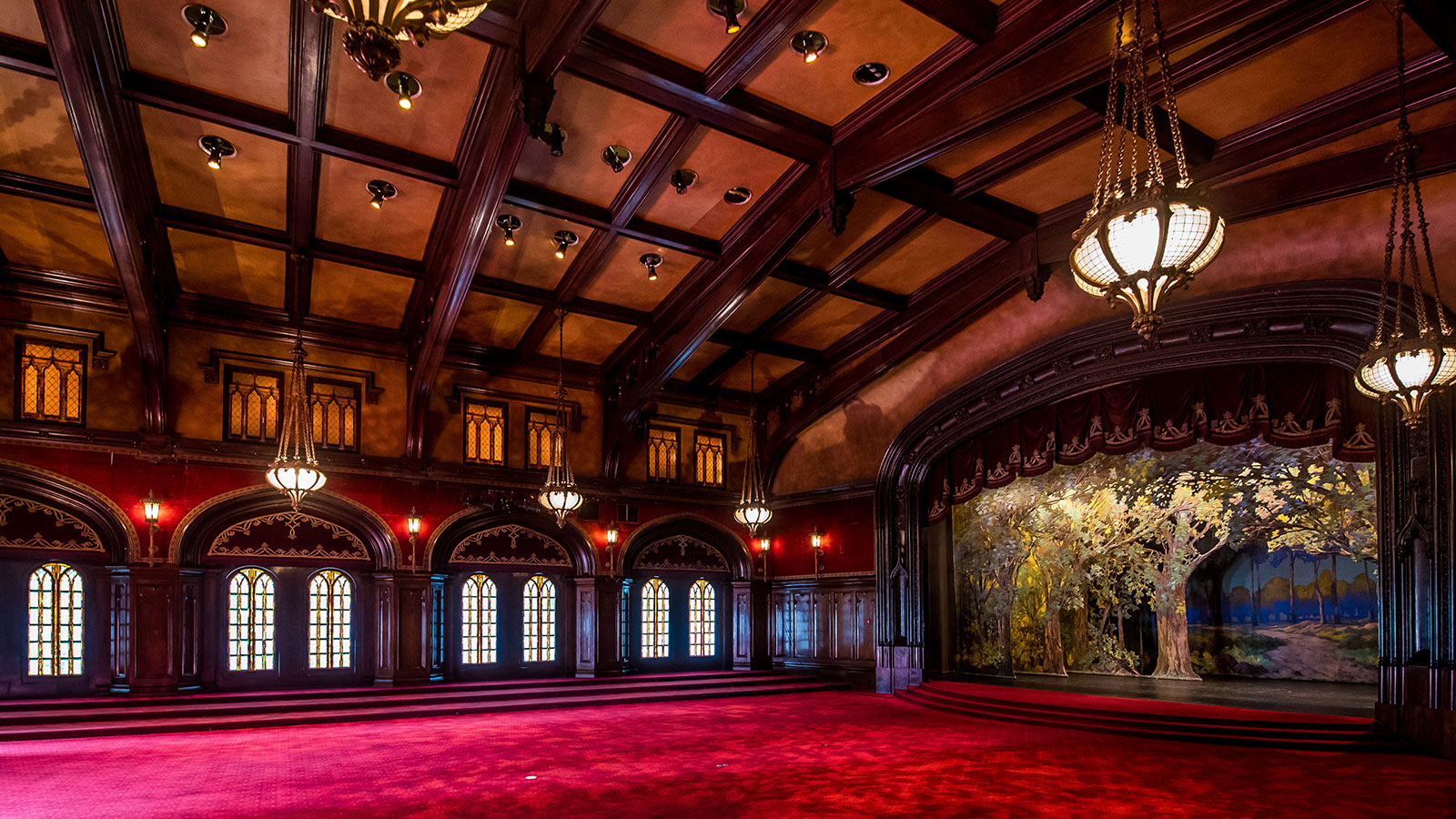 Honoring Randall Kline
Founder, SFJAZZ 
"Any big hotels have got scandals," he said. "Just like every big hotel has got a ghost."  
― Stephen King, The Shining
You're invited to join us for an evening of "NO WORK – ALL PLAY" at Opera Parallèle's benefit party! Let us transport you to the theatrical, luxurious excess of a mysterious Gilded Age retreat…
 A former secret meeting hall, The Lodge's 1909 gothic splendor evokes the ballroom atmosphere of The Shining's fictional Overlook Hotel, opened the same year. Summon its glamorous spirit with us at our one-night only fundraiser and celebration. All proceeds and donations help OP create extraordinary opera that is relevant to our community.
COVID HEALTH & SAFETY REQUIREMENTS
Masks are recommended for all attendees when not actively eating or drinking. Please be aware that singers will perform without masks.
This year's event is chaired by Jerry Roth, and we are proud to be honoring SFJAZZ founder Randall Kline during his farewell year.
"As an organization devoted to pushing the boundaries of what opera can be, and to bringing it to a wider community, we are truly grateful to Randall, whose passion for building collaboration among artists of different genres mirrors our own. We are deeply honored to have such vibrant, boundary-crossing artists join us in celebrating Opera Parallèle's friendship with Randall, his leadership, and our ongoing partnership with SFJAZZ."      – Nicole Paiement
Our chanteuse and chanteur for the evening will be artists Kearstin Piper Brown and Nathan Granner from the cast of OP's premiere of The Shining, based on Stephen King's iconic novel. Our evening's emcee will be acclaimed actor L. Peter Callender, and feature a special appearance by Grammy- and Tony-winning jazz artist, Dee Dee Bridgewater, and beloved San Francisco musicians Marcus Shelby, and Kevin Korth.
Program
5:30pm: Pre-Event Sponsor Reception* (Doors 5:15pm)
Meet & Greet with Artists – Kearstin Piper Brown & Nathan Granner
*a benefit for Celebration Sponsors $5k +
7:00pm (Doors 6:30pm): Let the party begin!
Special performances & spooky surprises throughout the night.
Cocktail and heavy hors d'oeuvres reception by Hugh Groman Group
RANDALL KLINE
Honoree
Randall Kline is the Founder and Executive Artistic Director of SFJAZZ. After a lifetime of championing this uniquely American art form, Mr. Kline is stepping down in November 2023 after 40 years at the helm. He has built SFJAZZ from a small community-based organization to an internationally recognized, year-round jazz institution. 
Dee Dee Bridgewater
Jazz Artist
Over the course of a multifaceted career spanning four decades, Grammy and Tony Award-winning jazz giant Dee Dee Bridgewater has ascended to the upper echelon of vocalists, putting her unique spin on standards, as well as taking intrepid leaps of faith in re-envisioning jazz classics. Ever the fearless voyager, explorer, pioneer and keeper of tradition, the three-time Grammy-winner recently won the Grammy for Best Jazz Vocal Album for Eleanora Fagan (1915-1959): To Billie With Love From Dee Dee.
Visit deedeebridgewater.com for more.
Kearstin Piper Brown
Soprano
Lyric soprano Kearstin Piper Brown has been featured at major venues including the Teatro di San Carlo, Carnegie Hall, Semperoper Dresden, Santa Fe Opera and the Kennedy Center. The Shining will be Kearstin's debut with Opera Parallèle, opposite Grammy-winner Edward Parks, preceding her Lyric Opera debut in March 2023. Kearstin's lead performance in the 2022 opera Intimate Apparel earned a Drama Desk Awards nomination for 'Outstanding Actress (Musical)'. Co-developed by Lincoln Center and the Metropolitan Opera, Intimate Apparel was also broadcast nationally as one of PBS' Great Performances, and named one of the NY Times' 10 'Best Theater of 2022'.
Visit kearstinpiperbrown.com for more.
NATHAN GRANNER
Tenor
Tenor Nathan Granner is an integral part of Opera Parallèle's recent success, notably for his portrayal of Rob Hall in OP's award-winning animated film Everest, presented by The Dallas Opera. Nathan completed training with Utah Festival Opera, Glimmerglass Opera, and Wolf Trap Opera, and was a Metropolitan Opera National Council semifinalist in his early career. He has garnered recent critical success as Alfredo in Verdi's La Traviata, and in the title role in Gordon Getty's Goodbye, Mr. Chips, adapted into an operatic film with premieres in the Bay Area, New York, Philadelphia, and for a streaming audience of over 60,000 on Shanghai BesTV.
Visit ngranner.com for more.
MARCUS SHELBY
Double Bass
Marcus Anthony Shelby is a composer, bassist, bandleader, and educator who currently lives in San Francisco, California. His work focuses on the history, present, and future of African American lives social movements and music education. Currently, Shelby is the Artistic Director of Healdsburg Jazz, an artist in residence with the Yerba Buena Gardens Festival, and a past resident artist with the San Francisco Jazz Festival and the Healdsburg Jazz Festival. Shelby has composed several oratorios and suites including "Harriet Tubman", "Beyond the Blues: A Prison Oratorio", "Soul of the Movement: Meditations on Dr. Martin Luther King Jr.",  and a children's opera "Harriet's Spirit" produced by Opera Paralléle 2018 & 2021.
Visit marcusshelby.com for more.
Kevin Korth
Pianist
As an in-demand recitalist and coach, pianist Kevin Korth has collaborated with such legendary artists as Frederica von Stade, Isabel Leonard, Jake Heggie, Nadine Sierra, Anthony Roth Costanzo, Sasha Cooke, Lise Lindstrom, Joel Krosnick, John Holiday, and Deborah Voigt.  Praised by Gramophone for playing that is "superb", and "full of color and character," his debut album, Out of the Shadows, a recording of American art song with soprano Lisa Delan and cellist Matt Haimovitz on the Pentatone Classics label was warmly received. This summer, Mr. Korth will make his Napa Valley Fesitval debut in a recital with baritone Lester Lynch.  Mr. Korth currently holds a position on the vocal coaching faculty at the San Francisco Conservatory of Music.
Michael Tate
Auctioneer
A San Francisco resident since 1998, Michael is an inspired and inspiring auctioneer with a demeanor that endears him to diverse audiences. He is unabashedly passionate in his commitment to helping nonprofits achieve their goals. Over the last ten years, he has partnered with more than 70 local, national and international nonprofit organizations and charities.
He can be reached on Facebook at Michael Tate Auctions or michaeltateauctions@gmail.com.  
L. PETER CALLENDER
Emcee
L. PETER CALLENDER is Artistic Director of African-American Shakespeare Company in San Francisco, Ca., resident director at American Stage Company in Saint Petersburg Florida (3 time Best Director Award), Westcoast Black Theater Troupe in Sarasota, Florida, and Associate Artist at N.Y. Classical Theater. Mr Callender is thrilled to work with this artistic team at Opera Parallèle on Harriet's Spirit. As a playwright, his play Strange Courtesies will get its world premier at San Jose Stage in Spring 2022. On Broadway, he played in Prelude To A Kiss. He is a multi award-winning actor and director having performed in 23 Shakespeare plays and appeared at over 12 regional theaters, nationally. Mr Callender's full bio and upcoming work can be viewed at lpetercallender.com.
BENEFIT CHAIR
HOST COMMITTEE
Meg Heinicke
Katie Hafner
Bernice Lindstrom
Peggy Otum
Deb Stallings & Sharna Fey
Jee Young You & Paul Alsdorf
Masquerade
Gold Room
Donna Dubinsky & Len Shustek
Lisa Lindelef
Jerry Roth & Ray Jenks
Colorado Lounge
Anderson Norby
Bob Ellis
Jack & Betty Schafer
Shine
Didi & Dix Boring
Judy & Jeff Gough
William & Sharon Hays
Alex Ingersoll & Martin Tannenbaum
Jeffrey Lyttle
David Madson
Patrice Maginnis & Eric Rice
Jeff Mattlin & Alexa Fitzpatrick
Simin Naaseh & Farhang Ostadan
Robert Ripps & Steven Spector
Denise Young
Hook & Ladder Winery
Wine Partner
Ridge Vineyards
Wine Partner
Ketcham Estate
Wine Partner
Medlock Ames Winery
Wine Partner
Ryme Cellars
Wine Partner
Green Couch
Furniture Partner
St. George Spirits
Liquor Partner